Publishing those books that really matter
Stella Maris Media is a new publisher of digital content, focusing on publications for eBook readers of classic works, rich educational materials and original works from selected authors.
Books in their finest digital format. Edited and compiled from the ground up for the most popular ebook stores.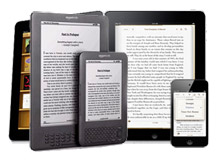 Boutique publishing for the digital age.
Our eBooks are painstakingly verified, meticulously edited, annotated and illustrated, to provide the best experience possible on the most popular digital readers, in your favorite device, always at hand, where you can make annotations, highlight and save text, create bookmarks, do full text searches, share your favorite selections with friends and family and much more.
Not those huge PDF files anymore, or facsimiles, but light, streamlined ePub and mobi editions that can be downloaded wirelessly and quickly to your mobile device, to have always at hand.
New publications online:
Preparation for Death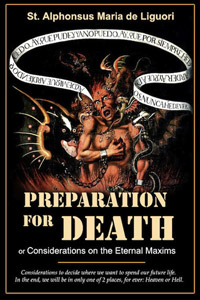 "Preparation for Death", the classic from Saint Alphonsus Maria de Liguori, confronts us face to face to the ultimate planning decisions of our life. Decisions about where we want to spend our future life, for ever..
Written during the eighteenth century this life changing masterpiece is now more relevant than ever, in times when the only consideration of humanity seems to be the short-lived enjoyment of earthly pleasures with no consideration whatsoever for our eternal life.
How much time and resources is people currently dedicating for planning their retirement?
There are thousands of books on Retirement Planning. As well as classes, seminars, software, advisers, etc.
Lots of preparation and considerations for our last 20, 30 years of life. But what about our planning for the next 20 or 30 BILLION years?
This is not a short "abridged version". This is the complete and full edition of "Preparation for Death", including its whole 474 pages content, as translated to English from the original "Apparecchio alla Morte" from Saint Liguori.
See more details in the Publications page.
The Mystical City of God Series.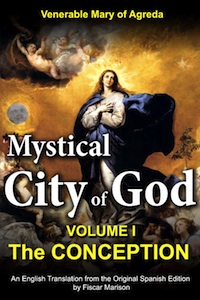 The Full English version of a 350 years old masterpiece. The complete text in Four Volumes of Venerable Sister Mary of Agreda, the 17th century Spanish nun, who finished the original work, "Mistica Ciudad de Dios", on 1660, after years of private revelations from God the Father himself and Most Holy Mary.
The four complete volumes of Mystical City of God:
For the first time in full native ebook format, in both the Apple iBookstore and Amazon Kindle store, the complete translation to English from the full original texts of Mary of Agreda.
These are not "abridged" versions. But the complete writings of each book. Including the 2,676 printed pages content of "Ciudad de Dios" translated to English from the original full Spanish volumes, plus annotations, commentaries, introductions from the translator and more.
A digital treasure, painstakingly verified word by word against the original scans of the old volumes. Includes all the original paragraph numbers, cross-referenced with the original Spanish version, so it can be used for study purposes across translations.
See all details in the Publications page.
Mystical City of God: The Full Version.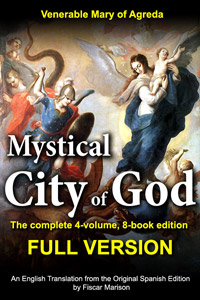 For the first time all 8 Books of Mystical City of God in one ePub Volume.
Now you can have the whole 4 volumes of City of God in one large publication in your ereader device.
This is not a short "abridged version". This is the Complete Edition, including the full content of City of God, as translated from the original 8 books, 2,676 printed pages of Ciudad de Dios.
See all details in the Publications page.